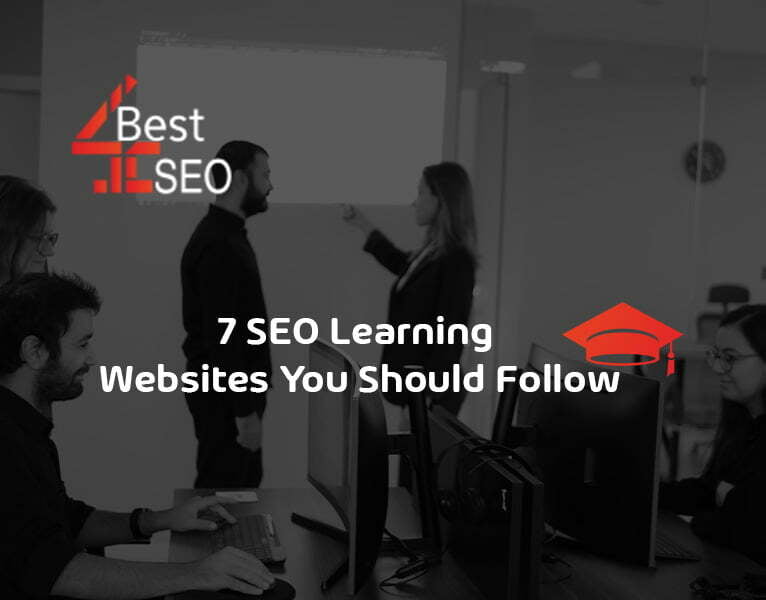 December 29, 2022
Best SEO Learning Websites
The content writting and SEO industry are two modern areas, so new developments and new standards are likely to come to the fore any day. Fortunately, there are plenty of SEO Learning Websites out there dedicated to teaching SEO and developing the skills needed to produce the best readable content.
These SEO learning webistes specialize in providing a comperhensive guide and documented studies to help the user understand all the rules and points related to SEO. Through this article from Best4SEO, you are going to discover the Best SEO Learning Websites in 2023, which you can take advantage of to develop your content and increase traffic to your website.
1. Google Analytics Academy

Why not receive information directly from the source if your goal is to improve searches on Google? Our team of experts advise you to take the Google Analytics Academy course in one of the best SEO learning websites, which provides the most useful educational content for those working in the field of digital marketing via the internet. The webste also provides exclusive information due to its knowledge of all the complex Google algorithms.
Absolutely no place can guide you in the best way to lead Google seach results better than Google itslef. Google Analytics Academy is a platform that is considered one of the top SEO learning websites as is specially designed to offer free courses aimed at developing SEO skills. Earning a Google Analytics academic certification requires passing the beginner and advanced SEO learning levels, then achieving a passing score on the exam.
2. HubSpot Academy

Hubspot Academy is a platform launched by Hubspot to provide its educational content that covers all aspects your want to know about SEO. If you want to develop your SEO skills, Hubspot Academy is a great SEO learning website where you can learn all what you are looking for. You can get free courses and training programs covering various topics such as keywork research, website content optimization, internal link planning and many other aspects.
Hubspot offers training periodicals on many important topics related to SEO learning websites, and you can watch its lectures online at any time you want. The main topics of the courses offered at Hubspot Academy are numerous and inculde topics shch as website optimization, internal link building, keyword research, and other directly related topics. Hubspot Academy is ideal for marketers and content creators.
3. LinkedIn Learning

LinkedIn is a famous application that specializes in displaying job opportunities available in all cities of the world. Having notices a significant increase in the positions of SEO specialists and content writers in the application, the company decided to launch LinkedIn Learning, with the aim of increasing awareness in this field and offering unique educational opportunties to those interested. LinkedIn Learning offers free courses and video tutorials for all of you SEO sub-topics such as keyword research and strategies that boost traffic on your website.
4. The SEM Post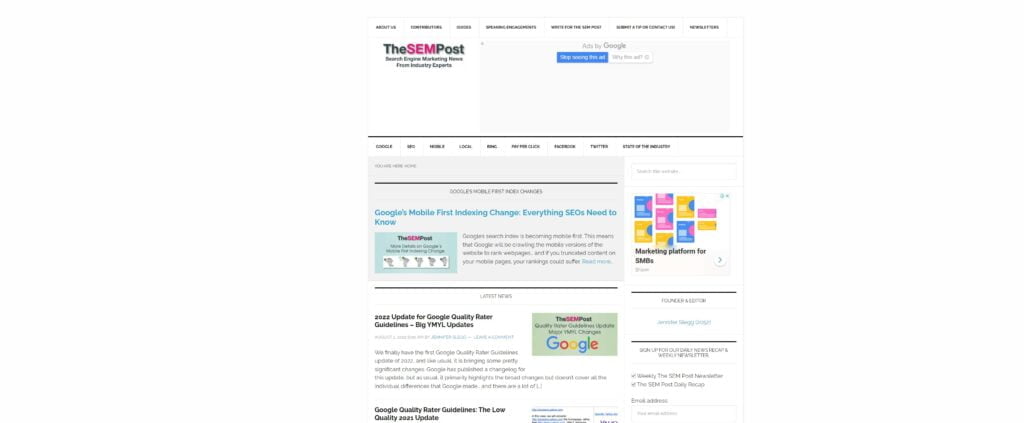 The SEM Post in one of the leading SEO learning sites where SEO experts and proffesionals who want to help growing companies perform stronger in search engine results. This website provides all essential updates and news along with analysis of advertisements and how useful they can be to you. If you are looking for one of the best SEO learning websites to achieve success in this field, our team of experts in Best4SEO believes that The SEM Post is the right place for you to get the best guidance to achieve your goals.
5. Wordtracker Academy

Wordtracker Academy is an SEO learning website known for its detailed explanation and helpful guides in terms of target keyword research, identifying relevant keywords, setting up a proper and effective keyword plan to increase your website traffic and improve contnet, but this is not everything yet. Wordtracker Academy provides comperhensive educational content on every topic related to SEO and is divided into 7 main topics, which are as following:
Keyword Research

SEO

Web Development

Marketing

Google
Social Media Marketing

Content
For the new or inexperienced marketer, Wordtracker is one of the best SEO learning websites out there. For webistes that want to cut costs, their focus on how to include social media research into your overall approach is particularly relevant in this great SEO learning website.
6. Semrush

SEO experts and professionals in this field have complete confidence and credibility in Semrush to be one of the best SEO education sites due to the great educational content they provide and perfect guidance in keyword research, website optimization, and internal link building Backlinks, and many other topics. With Semrush, you can download comprehensive guides covering all the hot topics related to SEO. In addition to that, there are also many courses in this site which is considered one of the best SEO learning websites to start, which you can get certificates from Semrush.
7. Ahrefs Blog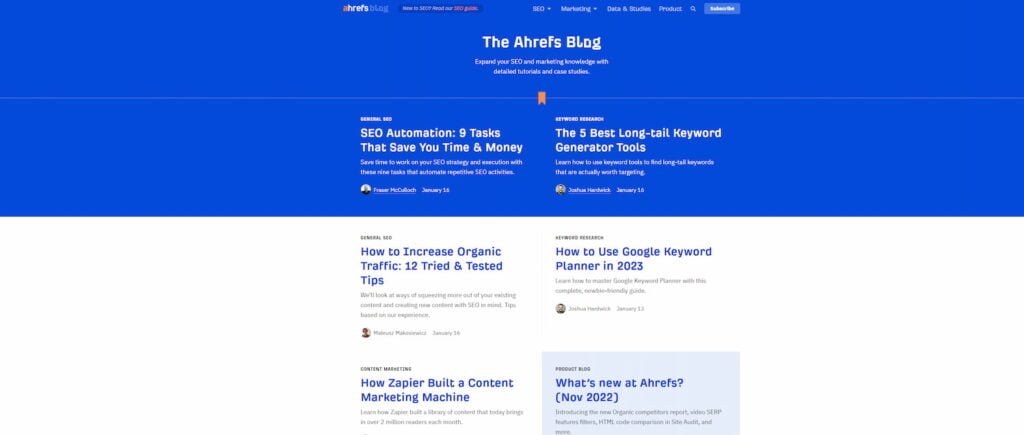 Popular graphic marketing website Ahrefs focus on the bigger picture with their large area of ​​expertise in metadata marketing to drive website traffic. For anyone interested in learning more about SEO, Ahrefs Blog is a great resource and one of the best SEO learning websites out there. They focus on developing a strong and consistent network of internal links that facilitate the smooth and easy transition between the pages of your website.
When it comes to building a deep network of information of great importance and value, Ahrefs Blog is one of the SEO learning websites for professionals on the one hand, and for beginners on the other hand, as Ahrefs Blog is interested in providing informational content to guide beginners in the field of SEO.
Tags:
SEO SEO Learning Websites SEO Tutorial